Name: Kenneth James Gleason
Photo: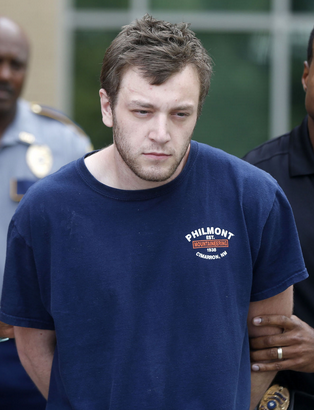 Level: L3 – Terrorist
Aliases: None
Twitter: None
Facebook: None
Location: Baton Rouge, LA (Currently in Custody)
Education: Magnet High School, Community College
Employment: None
Hate Groups: Alt-Right
Date: 2017
Proof:
A 23-year-old white man arrested Tuesday was accused of killing two black men and firing on a black family in a string of attacks that police say may have been racially motivated.
A law enforcement official said they had found a copy of an Adolf Hitler speech at the home of Kenneth James Gleason, and investigators said DNA on shell casings and other evidence link him to the crimes.
Gleason was led away from the police department in handcuffs just before authorities there held a news conference to announce that he would be charged with first-degree murder in the shooting deaths last week of a homeless man and a dishwasher who was walking to work.
..
District Attorney Hillar Moore said his office could seek the death penalty.
"It appears to be cold, calculated, planned (against) people who were unarmed and defenseless," he said. "We don't need to prove motive. There are a lot of things that are unanswered."
No one was injured when Gleason fired multiple times into the home of a black family in his neighborhood on Sept. 11, authorities said. It's not clear if Gleason knew the family.
In the other shootings, Gleason fired from his car then walked up to the victims as they were lying on the ground and fired again multiple times, police said. Neither victim had any prior relationship with Gleason.
The first fatal shooting occurred Sept. 12 when 59-year-old Bruce Cofield, who was homeless, was shot to death. The second happened last Thursday night when 49-year-old Donald Smart was gunned down while walking to his job as a dishwasher at a cafe popular with Louisiana State University students.