Name: Kevin Roger Goudreau
Photo: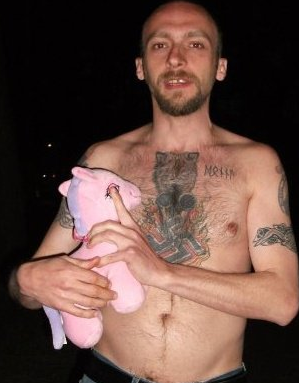 Level: L2 Criminal
Aliases: Irwin Bauer
Twitter: @kevingoudreau
Facebook: CNF14W
Location: Peterborough, Ontario
Education: None
Employment: None
Hate Groups: Canadian Nationalist Front
Date: 1980-2017
Proof:
He is the founder of the White Nationalist Front, later rebranded to the Canadian Nationalist Front.
He has a large swastika tattooed on his chest. He also frequently gives Hitler salutes.
He has been active and well known in the neo-nazi 'scene' for over 20 years.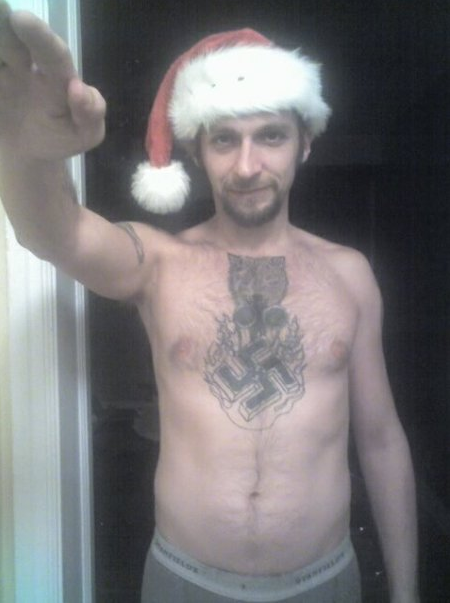 Arrested for Assault in 2016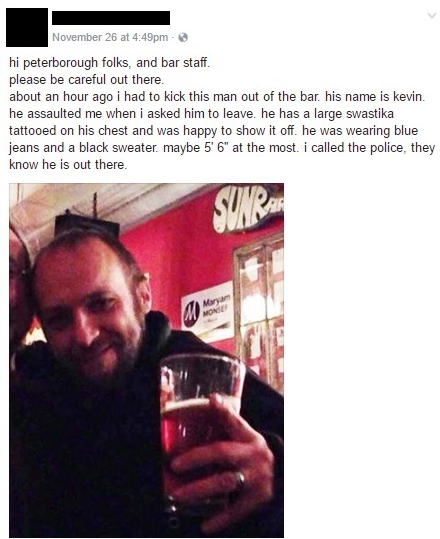 On November 26, 2016 at approximately 4:30 p.m. the accused attended a George Street North bar. While there the accused was asked to leave the premises due to his behaviour at which time the accused struck an employee. Police were contacted and attended the establishment.
As a result of the investigation Kevin Roger Goudreau, 41, of Stewart Street, was arrested and charged with assault and failing to comply with a probation order.
The accused was held in custody, appeared in Weekend and Statutory Holiday court on November 27, 2016, was remanded in custody and is scheduled to appear again in court later today (Nov. 28).