Name: Paul Smith
Photo: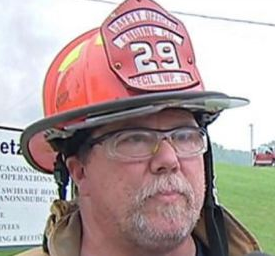 Level: L1 Moderate
Aliases: None
Twitter: None
Facebook: Deactivated
Location: Muse, Pennsylvania
Education: Carlynton High School, Parkway West Area Vocational School
Employment: Lab Technician – Vesuvius Research (Current), Fire Chief – Cecil Township Volunteer Fire Department​ (Former)
Hate Groups: Alt-Right
Date: 2017
Proof:
Paul Smith has a "list of no-good n*ggers." He's the chief of the Cecil Township Fire Department, about 20 miles outside of Pittsburgh. On Sunday, he felt so comfortable announcing to the world who had just been added to his "list of no-good n*ggers" that he posted it as a status on his Facebook page.
We're not quite clear on how exhaustive a list Smith has built over the years, but this much we do know, thanks to the Facebook post: Pittsburgh Steelers head coach Mike Tomlin has now found himself on Smith's list. What's strange is that Smith didn't put Tomlin on his "list of no-good n*ggers" — instead, Tomlin put himself on that list.
"Tomlin just added himself to the list of no-good n*ggers," Smith wrote. To be clear that he wasn't fooling around about Tomlin being on his list, Smith finished off his post with, "Yes I said it."