Name: Jeremy Joseph Christian
Photo: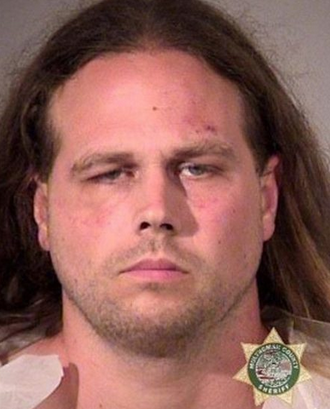 Level: L3 – Terrorist
Aliases: None
Twitter: None
Facebook: jeremy.christian.581
Location: Portland, OR (Currently in custody)
Education: None
Employment: None
Hate Groups: Alt-Right
Date: 2000-2017
Proof:
The two victims who were killed in Friday afternoon's attack have been identified as:
* 53-year-old Ricky John Best of Happy Valley, Oregon
* 23-year-old Taliesin Myrddin Namkai Meche of Southeast Portland
Best died at the scene and Namkai Meche died at the hospital.
The victim who was injured in the attack has been identified as 21-year-old Micah David-Cole Fletcher of Southeast Portland. He remains in a Portland hospital being treated for serious, but not believed to be life-threatening injuries.
The Oregon State Medical Examiner is conducting autopsies on Best and Namkai Meche today; results are not expected until later in the afternoon.
Homicide detectives are continuing to investigate the circumstances leading to the violent attack. As part of that investigation, detectives will extensively examine the background of the suspect, Jeremy Christian, including the information publicly available about the suspect's extremist ideology. A review of the suspect's record with the Portland Police Bureau shows he is not flagged as a criminal gang member, nor does he have any known mental health history listed.
The suspect will be arraigned on Tuesday May 30 (not Monday as originally released) in Multnomah County Court.
—
Last month, even as hardcore activists with opposing ideologies clashed on the streets of Portland, Ore., as police officers kept watch, Jeremy Joseph Christian stood out.
He was big, standing over 6 feet tall and weighing 235 pounds, according to booking details. He wore an American flag cape. He was marching through the crowd yelling the racial epithet "n—-r" and throwing off one-armed Nazi salutes.
"I think this guy has a mental illness of some sort," said Corey Pein, a freelance writer who encountered Christian that day and interviewed him for the local Williamette Week.
Now, Christian, 35, is accused of fatally stabbing two men Friday night as they tried to intervene when he shouted anti-Muslim hate speech at two young women on a light-rail train in Portland.
Court Case No. 17CR34550
DA Case No. 2361727
Citation No. None
Charges:
AGGR MURDER (A Felony) X2
Bail: $0
Status: Unsentenced
ATT AGGR MURDER (A Felony)
Bail: $0
Status: Unsentenced
UNLAW USE WEAPON (C Felony) X5
Bail: $0
Status: Unsentenced
INTIMIDATION II (A Misdemeanor) X3
Bail: $0
Status: Unsentenced
MENACING (A Misdemeanor) X2
Bail: $0
Status: Unsentenced
ASSAULT I (A Felony)
Bail: $0
Status: Unsentenced
ASSAULT II (B Felony)
Bail: $0
Status: Unsentenced